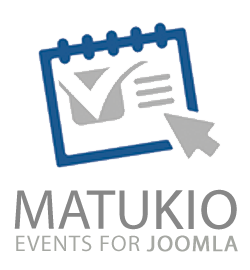 A bit earlier then planned Matukio 5 is now available for download! Bringing tons of changes and new features to our Joomla events extension. If you are in a hurry and just want to take a look at the new responsive bootstrap 3 frontend visit our demo page!

New responsive frontend

Matukio 5 brings a completely rewritten and improved frontend based on the bootstrap 3 framework. The new design is 100 % responsive and looks great on every device, from smartphones, over tables to large desktops. The frontend is now also completely jQuery based and does no longer need Mootools. And we did not only rewrite the public views, but also the frontend organizer area, so you have a continuous look & feel throughout the whole extension. But it is not only a design update, there are also a lot of new features in the different views!


Event-list / Overview
The starting point for most of your users. It is now much easier to
find events
, sort and book events. You can offer your users new additional
filters
for
organizers
,
dates
,
locations
,
fees
etc and they can combine all filters! For example they can filter for events from a certain category, at a specific location and limit the list for events this week and sort them alphabetical! There is also a new map showing all chosen events, making it easy to find the right location. Additionally every event (with a location) has now an integrated
route planner
, just click on the map button and a Google Map including routing functionality will slide in.
Event Calendar
You can now set a different
background
and
font-color
for each event and if you hover over the date you get a nice tooltip including all event details.
Enhanced booking-fields and booking form
You can now set if booking-fields should be filled out
per booked seat
or
just once
. For example if you want to have all attendees names, when someone books multiple places, you just activate the "per place" option in the first- and last-name booking field. Additionally it is now possible to
extend the bookings-overview
in the frontend and backend with the dynamic booking-fields, e.g. show for example a phone number
directly
in the overview, making it needless to go to the booking details.
Improvements in the backend
But not only the frontend has been improved, Matukio 5 brings a lot of new features and little helpers in the backend. Starting with the new
dashboard
including statistics (for events, bookings, sales) and a new
one-click update
mechanism. Most list-views now also have a
duplicate item
function and most edit-views
Save and New
buttons. You can import new events via
CSV
now. Old bookings can now ultimately removed, just switch the status to deleted, mark the old bookings and click on empty trash. The
validation
in the backend has also been improved.
Editor booking / event placeholder plugin
Matukio 5 brings a new Editors-XTD plugin, making it a lot easier to
customize
the
Matukio templates
(like the booking confirmation mail or export templates). When you edit a template just click on the "Matukio Placeholders" button below the editor and a nice Lightbox will show you
all available ones
(including the dynamic ones!).
Technical changes and performance improvements
There are also hundreds of changes under the hood, for example the booking data is now stored in the
interchangeable
JSON
format, which is easier to process for external extensions and software. When you update to Matukio 5 all old booking-data will be automatically migrated to the new format. In the frontend we reduced the query count by a
factor of 10
, making your site load
faster
and take
less resources
. We improved the payment processing and logging, the status computation and many other payment related things.
Removal of old templates and the old booking form

With Matukio 5 the old default event-list and event template, which we ported from Seminar event manager, have been removed. We also removed the old booking form - the new booking form offers more features and options, is responsive, has validation and is easier to use - so the old one had not a single advantage over it. With Matukio 5 you can also transform the new booking form to an one-step / site booking form, like the old one was and also preallocation of booking fields with Joomla user data has been available for some time.

Ultimate subscription

As a small reward for your support and loyality all subscribers of the ultimate edition will get the custom Joomla 3.3 template we use on matukio.compojoom.com - It is based on the awesome T3-Framwork and bootstrap 3, 100% responsive and an awesome starting point for every new website. It also comes in a kickstart version with the complete Joomla 3.3 installation you see at matukio.compojoom.com. P.S. Current subscribers can directly upgrade to the ultimate edition without loosing a single day and even get a discount on that!

Thank you

A big thank you to all testers and supporters for their continuous feedback! Especially to Hubert Beck, who did a great job on finding many bugs and problems before the release!

What's next?

Some features didn't make it into the first Matukio 5 release, like preallocation of booking-form fields with Community Builder or Jomsocial data. We are also working on some nice other additions, which will make your life much easier. As always we keep you updated on Facebook and Twitter and in the forum, see this post for details.