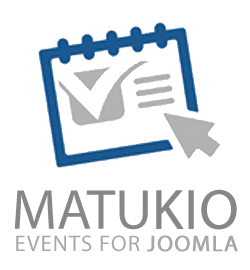 A bit earlier then planned Matukio 5 is now available for download! Bringing tons of changes and new features to our Joomla events extension. If you are in a hurry and just want to take a look at the new responsive bootstrap 3 frontend visit our demo page!

New responsive frontend

Matukio 5 brings a completely rewritten and improved frontend based on the bootstrap 3 framework. The new design is 100 % responsive and looks great on every device, from smartphones, over tables to large desktops. The frontend is now also completely jQuery based and does no longer need Mootools. And we did not only rewrite the public views, but also the frontend organizer area, so you have a continuous look & feel throughout the whole extension. But it is not only a design update, there are also a lot of new features in the different views!