Hello Daniel,
Thanks for the latest update CComment Core 6.6.0.
The latest version of CComment Core does not accept comments at all with the right captacha input, whether it is case sensitive or not. The 'wrong capthcha' message to be displayed, which I have changed in the language file and was always shown correctly in CComment Core 5 series, now displays the inline CSS and the message instead of just the message itself.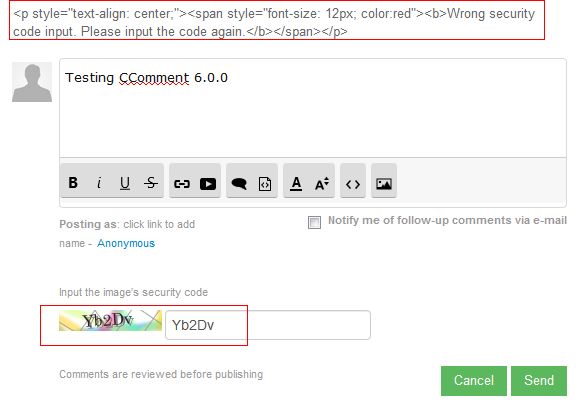 I have tried uploading a small image file, with a comment, but receive the following message:
Error You don't have upload priveleges.
I have enabled Yes for 'Picture support' in the back end with a maximum width of 200px. Are image uploads only for Pro subscribers? Also, the description for file uploads is incomplete in displaying:
'The maximum file size for uploads is MB. Only files are allowed.' What is the maximum image file size and type supposed to be?
Regards,
Mr B
p.s. the correct spelling is priv(i)leges