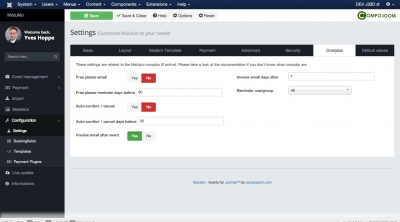 Since the release of Matukio 4.2 we had many minor releases and three major ones, which brought some nice new advanced features and some cool additions. In this blog post we are going to give you an overview about the changes.

Let's start with the biggest addition Matukio now has three new cronjobs for recurring automatic tasks (cli/matukio.php):

Automatic
cancellation or confirmation of events
X days before the begin, depending on a minimum participants setting (including notification of participants, organizers and admins).
Automatic
free places reminder
X days befrore an event to your users or a Joomla! user group based on your template.
Automatic
PDF invoice email for participants
X days after the end of an event.
If you don't know how to set up cronjobs you can find a tutorial on how to set them up on Linux
here
.
Preallocation of booking fields with Joomla! user details
You can now easily prefill booking fields for logged in users with Joomla! user profile data. Activate the Joomla! user profile plugin in the plugin manager and just set up the mapping in the booking field edit form.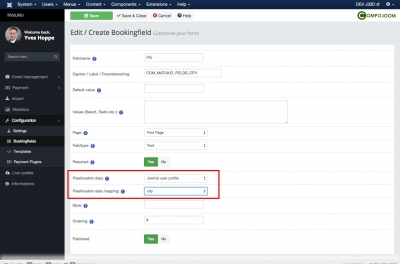 Community Builder and Jomsocial support are going to follow in one of the next versions.
New event email to all users or an selected user group
Matukio 4.3 also brought the possibilty to advertise new events automatically, by notifying all your Joomla users or an selected user group by email. As always you can easily customize it in the templates section with all known event and user placeholders.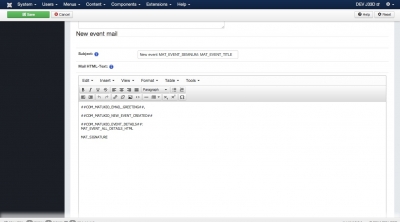 Check-in system:
We improved the check-in system - now you can use your smartphone or any internet capable device to check in your participants, using direct links or nice QR-Codes! (Compatible with almost all barcode scanners!!). Coming with that we have three new placeholders: MAT_BOOKING_CHECKIN_URL, MAT_BOOKING_CHECKIN_LINK and MAT_BOOKING_CHECKIN_QRCODE all linking to the individual participants check-in URL (Can only used once! Organizers can see all booking details with it)
New payment plugins:

Matukio now offers also support for Payfast, Paymill and Epaydk.

Pariticipant grading system:

Now you can also give grade your participants and give them marks. Participants can view them at the frontend and they can be used as placeholders in emails, certificates and all other export templates - just use the new placeholder MAT_BOOKING_MARK.

Other "minor" changes:

There are hundreds of fixes, small improvements and additions, here are some which may be important for you:

+ New configuration options for setting the status of all new bookings to pending or active
+ You can now book an event multiple times as a Joomla user (if allowed in the settings)
+ Added booking id to the "My Bookings" overview
+ Bootstrap in the print lists

We also updated the documentation, including a new detailed template replacements list.

What's coming next?

With Matukio 5 we are going to introduce a lot of new features, like a complete new frontend template, new event specific fields, CSV event import, a new dashboard, events without a fixed date and many other great things.

But we are also going to remove some old and deprecated functions we have carried until the current Matukio version. This concerns features like the old booking form, the old default templates and some other things, which are removed from Matukio with version 5. The new booking form has advanced further and there is not a single feature the old one offers, which the new one doesn't.