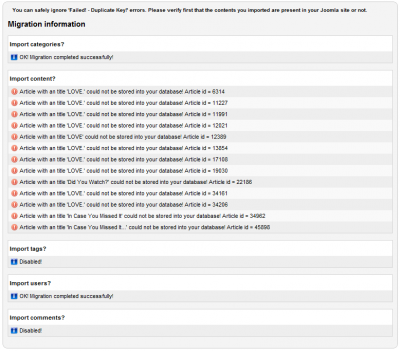 Hello guys! We are presenting you today the new version of our well know Wordpress/Drupal migration extension CMigrator!
CMigrator 1.0 got an user friendly error display. Now it is really easy to figure out why the migration is not working!
In this version the migration won't stop on an error. It will continue with the remaining tasks and at the end you'll get a summary of what happened. There are 3 kinds of output messages that you can encounter: errors, infos or warnings. What's the difference?
errors - Items with error message were not migrated into your Joomla database. You should check what is wrong with that item and run migration again (or add it manually)
infos - Basic info messages. It will let you know how each task finished.
warnings - Items with this messages were migrated to your database, but some of its data were not added. For an example, if you have a comment from a user that was deleted in your wordpress/drupal site, the comment will be added, but the author will be set to guest.
This version also contains a lot of bug fixes that were preventing the migration for some users. Special thank you for your emails, tickets and last but not least patience!