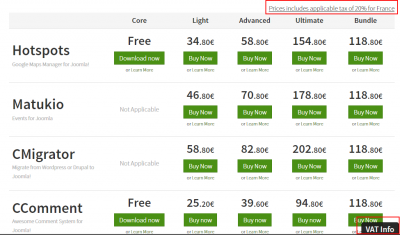 As a small business owner my dream is to concentrate only on our products. Code, code, code! Forget about everything else there is to running a business. Unfortunately the biggest burden as usual are taxes. Just when you think that you finally have gotten the hang on it, things change :)
Last year the European Union had made some changes to the VAT laws which had to be implemented by the first of January 2015. As you can imagine I found out about this a week before January 2015... So I panicked. The rules concerned individuals from the EU. If you reside in the EU we now have to charge you the VAT of your own country. WTF? That are 28 different VAT rules! Fortunately I tried to listen to my own words: "Don't panic! Don't panic!" - something I say pretty often to you, when you have an urgent support request :)
So after having a look at the akeebasubs repository & the commits going on there I was pretty much relaxed. Nicholas from akeebabackup as usual was way ahead of me and already had implemented everything necessary to support the new regulations.
If you have purchased a product from us in the last 15 days you might have noticed that the VAT on your invoice is the same as the one in your country. Amen! Now you can sleep with good conscience knowing that you push your country's economy, because the VAT that you paid to us is going directly in your country!
Another thing that we had to tackle in 2015 was the display of the prices. It's no longer OK to show net prices and apply the VAT at the end. That's why if you now go to any of our product pages or the main pricing page you'll notice that on top of the plans table we show you the applied VAT. We try to automatically determine your country on the base of your IP and then we apply the correct EU Vat rule. This works most of the time, but if it doesn't then to see accurate prices just click on the text "Prices include bla bla" (or click on the bottom of the page VAT info) and adjust your country manually. The prices on the page will update immediately and the change will be reflected throughout the site.
So, those small modification took us now more than few days to implement. Now let's get back to our extensions and do some real coding!