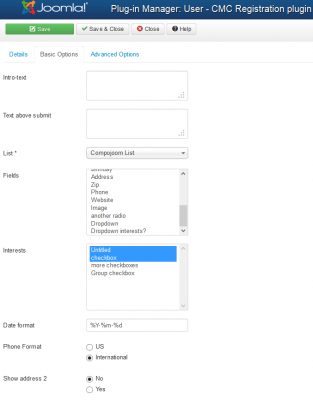 If you don't already use MailChimp for your newsletter campaigns - you should! (It's no secret that we love MailChimp here on compojoom.com & we use it ourselves!). With the release of version 1.4 of CMC (our MailChimp integration for Joomla) we've added some pretty cool features.
In previous versions users were only able to subscribe to your newsletter using the module. Which is perfectly ok, but what happens when you have a lot of people registering on your site, but they never bother to fill out your newsletter form? Well, now with CMC 1.4 you'll be able to ask your users to subscribe to your newsletter during the registration on your site!

We've created 3 plugins - one for the default Joomla registration, one for Community Builder and one for Jomsocial! Enabling those is pretty easy! All plugins have the same options (which actually are the same as the ones you are using in the module)
First you have to select the list you want your users to be subscribed to, then you have to select which fields & interests they should fill out during the registration. And that is all! After enabling the plugin your users will see a newsletter checkbox during the registration process. If they select it, they will see additional fields that they need to fill out (if you have selected any).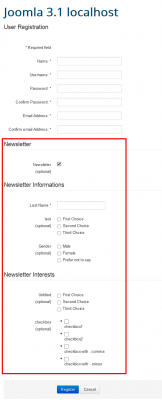 Once they click on the register button, depending on your registration settings the user will be auto subscribed to your newsletter or he will get an email asking him for confirmation.
Examples:
- if users are directly registered on your site (without user confirmation email), then we will subscribe them to MailChimp, but they will get an email from MailChimp that will ask them to confirm their newsletter subscription (until the subscription is confirmed, you won't be able to send a mail to the user)
- if users are registered after they click the link in the activation email, then we will subscribe them to MailChimp directly and they won't receive any e-mail from MailChimp
In both cases we make sure that the double opt-in process is followed.
Enough about the registration. The next cool thing in CMC is the improved list management. In the past, one had to sync all lists and users when you actually needed just 1 list and the users in it. Now with CMC 1.4 you are able to select which lists to sync with your site. This way you can have only the lists that are relevant for you for this particular site. For a demonstration, have a look at the video:
If you haven't done it yet - get your MailChimp (free if you have less than 2000 subscribers & if you send fewer than 12 000 emails a month!) account & start using CMC on your Joomla website.